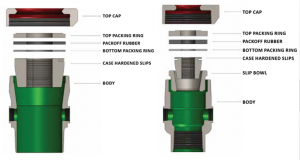 Type 92 Casing-Head                                       Type R Tubing Head
High-quality independent wellhead equipment per API 11 IW and API 5B
Wellheads interchangeable with Larkin, Huber, and Hinderliter styles 

Tubing Heads – X, K, R, 612, HHS, LM-55, HFC, HB, A-7, S, MS, SW, HW

Casing Heads – 75, 92, CE, ECA, MSR

Production Stuffing Boxes:




Single and double packed, Tee-based, inverted, wheel, Skinner & Huber type jack boxes.

Flow & Pumping Tees:




1500, 3000, 5000 psig rated, 2, 2-1/2", 3", 4″ with pipe thread bleeder connection.

Polished Rod Clamps:




Type: 10S, 10D, 10T, 25, and 40 designs. For 1-1/8″ to 1-3/4″ Dia Red 

Production Blowout Preventers (BOP):

Huber and Ratigan styles rated for 1500 and 3000 psi

Premier design rated to 5,000 psi and sour service

Heavy Duty patented dual ram 2-9/16" flanged styles; Rated for 5KSI & 10KSI.

Rod Rotator:




13K, 33K, & 40K load rating and the New Pro-Torque with one-way bearing design.

Polished rod lubricator




with one-quart reservoir capacity, available for all polished rod sizes.

Cone, Dome, and V-ring Style stuffing box packings:




Rubber, Teflon, Brass filled, HSN and NEW Super Life 575 Polymer.